Description
Bernadette cardigan mohair with stripes in green white camel turquoise
Discover the beautiful Bernadette cardigan made of mohair with stripes in cream white, camel, turquoise, azul, coral, peach and petrol. This women's cardigan is made from eco-friendly produced mohair, sourced from France and from the renowned Fonty brand. With its seamless design and hand-knit construction with four threads, this cardigan offers a sturdy and well-shaped fit. Made from a composition of 75% mohair, 20% wool and 5% polyamide, the mohair cardigan consists of a whopping 95% natural materials. Experience the comfort and style of this unique mohair cardigan and enjoy the luxurious look it adds to your wardrobe.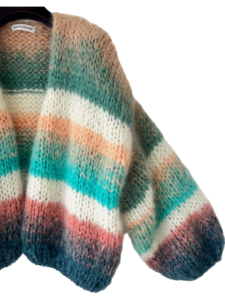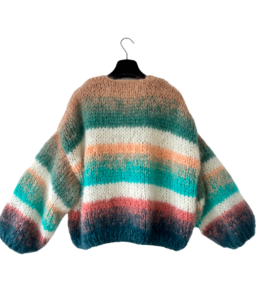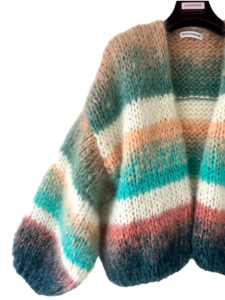 Size and fit mohair cardigan
The oversized Bernadette cardigan in mohair has a roomy fit consistent with small/medium sizes. This women's cardigan is designed with voluminous bodice and balloon sleeves, providing a trendy look. At approximately 60 inches in length, the cardigan offers the perfect balance of style and comfort. The stripes on the cardigan have a unique tie-dye effect, where the colors flow into each other, and are interspersed with plain stripes in off-white. Experience the effortless coolness of this women's mohair cardigan and add a fashionable touch to your outfit. This cardigan is also available in a different color combination.