Description
Bohemian style mohair sweater striped in eggplant, rust orange, burgundy and taupe brown
This chunkyknit sweater made of mohair with stripes is hand-knitted. The design of the women's knit sweater is made on the basis of wide stripes in the colors eggplant, rust orange, burgundy and taupe brown. The narrow stripes are knitted on the body with raspberry pink lurex and mohair. The mohair used to knit the sweater is from Fonty Ombelle (mohair 75%, wool 25% and polyamide 5%). On the sleeves of the boho sweater, the narrow stripes are knitted with lilac mohair and lilac lurex. The colors used in the knitted ladies sweater are beautifully matched. The mohair sweater with stripes can be combined well with the bohemian clothing style.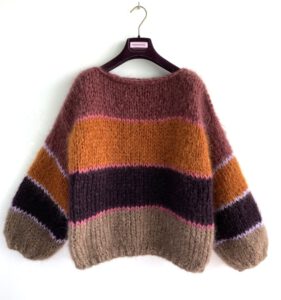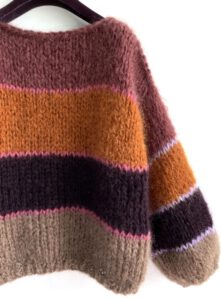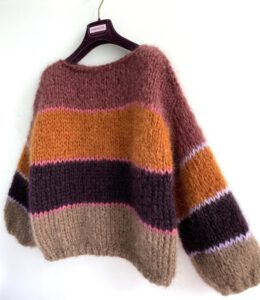 Size and model mohair sweater striped
The women's boatneck pullover falls slightly oversized and falls slightly shorter at the hip. The striped sweater has voluminous balloon sleeves. The size of the women's knitted sweater falls as a size small/medium, size EU 36-38. The length of the knitted mohair sweater is 57 centimeters. the width of the sweater is 62 centimeters from armpit to armpit. The slightly cropped model of the sweater falls on the hip, over the board of the pants. This mohair sweater is also Available with the colors blue, plum and burgundy. 
This unique knit sweater is a one of a kind keypiece to style your wardrobe with. The women's pullover is ready for shipping.