Description
Hand knit cropped cardigan with buttons in burgundy brown
Short and oversized three-button cardigan in burgundy brown mohair. The cropped cardigan is hand knitted with a beautiful burgundy mohair. The color of the button cardigan is a mix of burgundy and brown. The eco-friendly produced mohair of this short women's cardigan is from the French brand Fonty Ombelle. The composition of the luxurious yarn is (mohair 75%, wool 25% and polyamide 5%).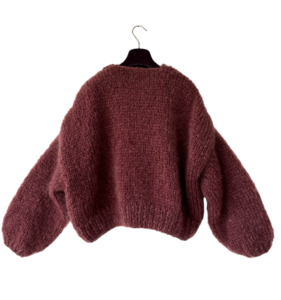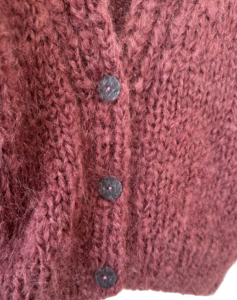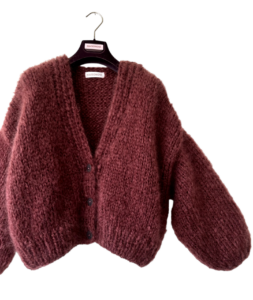 Model and size cropped button cardigan
The cardigan has an oversized fit and falls as a size small/medium EU 38. The length of the cropped cardigan is approximately 52 centimeters and the width is 65 centimeters, measured from armpit to armpit. The sleeves of the burgundy mohair cardigan have plenty of volume and a generous length.