Description
Hand knit bodywarmer for women in light grey wool and mohair
This chunkyknit bodywarmer is designed and made by Maison Osé. The design of the ladies' bodywarmer has padded shoulders and wide inset arms giving the bodywarmer a trendy and cool look. You can also wear blouses with wide sleeves under this bodywarmer in light gray. This bodywarmer is a keypiece for your wardrobe and is easy to combine with various styles. The chunky patent stitch gives a cool look to the light grey vest with a small cap sleeve. The waistcoat can be worn over a dress, blouse, turtleneck or t-shirt. The waistcoat in the color light gray is made of 100% Felletin wool from Fonty and 1 thread Fonty Ombelle mohair (75% mohair, 20% wool and 5% polyamide). The material feels very soft and the sleeveless cardigan remains in good shape.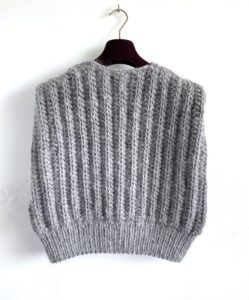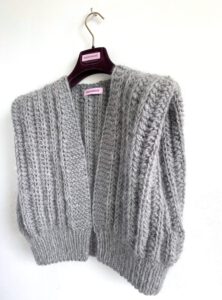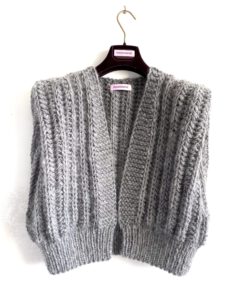 Size sleeveless wool knitted cardigan light gray
The size of this knitted gray vest is suitable for small/medium size EU 36 to 38. The length of the waistcoat is 54 centimeters and the width of the shoulders is 50 centimeters. The gilet falls oversized also beautiful. The model in the picture is 1.78 meters and usually wears EU 38 / size Medium.
This knitted sleeveless vest in beautiful light gray wool and mohair can be remade to order. It takes about two weeks for the gilet to be ready.  For a beautiful blue version of this gilet, click here