Description
Hand knit waistcoat in moss green made from vegan material.
The hand knitted sleeveless vest in moss green is made of a premium acrylic. The material of the moss green waistcoat is 100% animal-free. The color of the knitted vest is moss green. The animal-free material of this ladies bodywarmer feels very soft and does not fluff.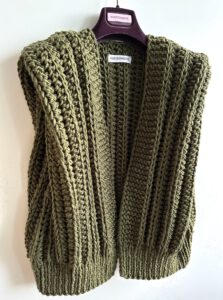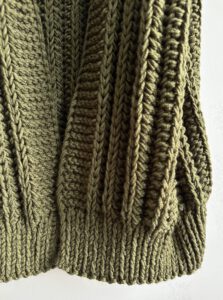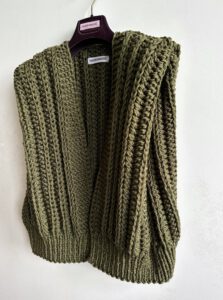 Size and model of the knitted bodywarmer in moss green/olive
This chunkyknit bodywarmer falls as a size small/medium, size 38/40. The length of the bodywarmer is 58 centimeters. The shoulder width of the sleeveless vest is 46 centimeters. The design of this knit bodywarmer is seamless knit with padded shoulders. The low arm inset allows this bodywarmer to be worn over sweaters and over dresses.
Deze groene chunky bodywarmer is verkocht, maar kan worden nabesteld. In circa 1,5 week kan het mouwloze vest verzonden worden.