Description
Long cable cardigan mohair mixed purple rust pink and anthracite
Hand knitted long cable vest mohair in rust orange, purple, anthracite and lilac color. This long women's cardigan in eco-friendly mohair is hand knit with four strands at a time. Four strands of eco-friendly produced mohair from Fonty (75% mohair, 20% wool and 5% polyamide) were used. Fonty Ombelle is a beautifully fluffy mohair yarn. To give the mohair yarn strength, it is mixed with sheep's wool. In the design of this cardigan, the colors purple rust orange lilac and anthracite are used. This has created a blended effect in the knitted mohair cable cardigan.  On the sleeves of the long mohair ladies cardigan are cables knitted in. The knitted cable sleeves give a playful effect to the knitted mohair cardigan.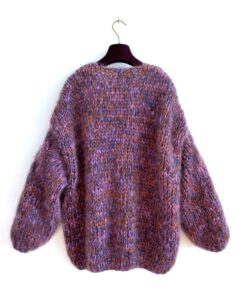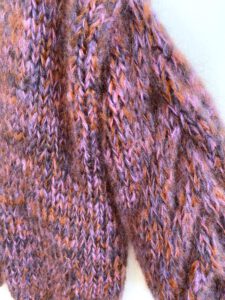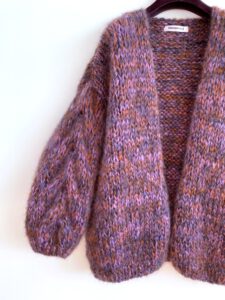 Size and model knitted cable cardigan mohair in green rust pink and anthracite
De maat van het Bernadette vest in mohair valt als small/medium, maat 38 EU. Het model van de mohair cardigan valt over de bil. Het damesvest heeft veel volume in het lijf en in de mouwen. De mouwen van het mohair kabelvest hebben mooie golvende kabels. De kabelmouwen vallen hierdoor soepel. De lengte van het paars roze mohair kabelvest is circa 75 centimeter. Dit prachtige damesvest is ook verkrijgbaar in een korter model in blauw taupe brown forest green and coral pink, click here for more info.