Description
Long mohair cardigan in purple rust orange melange with dip-dye effect balloonsleeve
Hand knitted melange long cardigan in purple and rust mohair. This long ladies cardigan in eco-friendly produced mohair is hand knitted. Four strands of eco-friendly produced mohair from Fonty (75% mohair, 20% wool and 5% polyamide) were used.
Fonty Ombelle is een prachtig pluizig mohair garen. Om het mohair garen stevigheid te geven wordt het gemixt met schapenwol. In het ontwerp van dit vest zijn drie kleuren paars en een roest kleur gebruikt. Hiermee is een gemêleerd effect gecreëerd in het gebreide mohair damesvest.  Op de mouwen van het lange mohair damesvest is een dip-dye effect gebreid met paars. Dit ontwerp is uniek en bedacht door Maison Osé.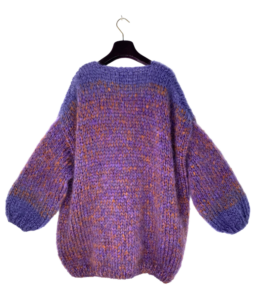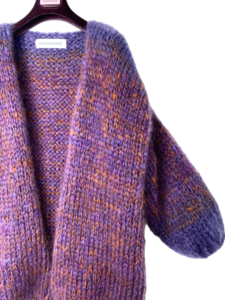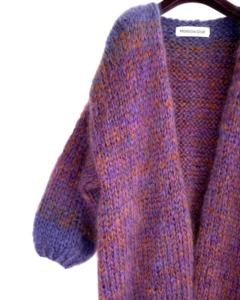 Size and model long knitted ladies cardigan mohair in purple orange
The size of the blended purple pull in mohair falls as medium, size 38-40 EU. The model of the mohair cardigan falls oversized and long. The ladies cardigan has a lot of volume in the body and in the sleeves. The sleeves of the purple mohair cardigan have beautiful dip-dye effect at the ends of the sleeves. The purple and rust tones slowly blend into a purple color. The length of the purple mohair ladies cardigan is approximately 80 centimeters. This beautiful long ladies cardigan is also available with cable sleeves in light pink with pastel colors, click here for more info.