Description
Batwing mohair sweater ash grey
This chunkyknit batwing mohair sweater in ash gray is hand knit. The design of this mohair pullover for women is made with wide batwing sleeves. The color of the mohair sweater is a deep dark gray. Ombelle mohair (75% mohair, 25% wool and 5% polyamide) from Fonty and silkmohair (mohair 77% and silk 23%) from Lang Yarns were used in the design of the women's knit sweater. The batwing sweater of mohair is lightweight and feels super soft on the skin. The neckline of the knitted mohair sweater features a boat neck. The mohair sweater has very wide sleeves and can be combined well with the bohemian clothing style.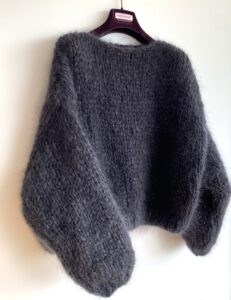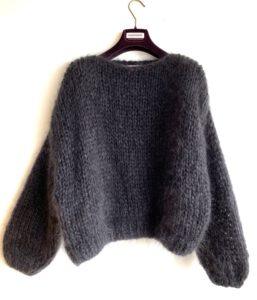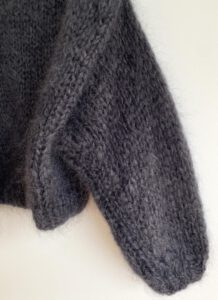 Size and model mohair sweater batwing sleeves
The women's pullover falls slightly oversized and has a cropped cut. The batwing mohair sweater has voluminous sleeves. The size of the ladies knitted sweater falls as size small/medium, size EU 36-38. The length of the knitted mohair sweater is 55 centimeters. The cropped model of the dark gray mohair sweater falls on the hip, over the board of the pants. Are you looking for a colorful mohair women's vest? Then check out the boho cardigans with tie-dye stripes here. 
This unique knit sweater is a keypiece to style your wardrobe with. The batwing sweater in ash gray is ready for shipment.