Description
ladies cardigan mohair hand knitted with tie-dye stripes brown, yellow, lilac and purple
Ladies cardigan in soft mohair. Chunky knit with tie-dye stripes purple, yellow, rust, ochre, brown, berry, burgundy and lilac. The women's vest is made with eco-friendly produced mohair from France by the Fonty brand. This oversized women's vest has a seamless design and is hand knit with four strands. The mohair cardigan feels sturdy and stays in shape well. The composition of the material is 75% mohair, 20% wool and 5% polyamide. This striped mohair cardigan consists of no less than 95% natural materials. The cardigan is finished with a crocheted edge along the neckline and sleeve cuffs with lilac lurex and soft rust-colored yak wool.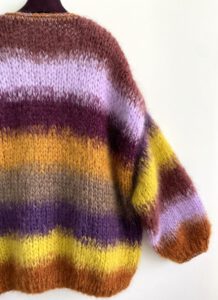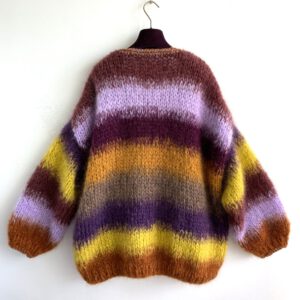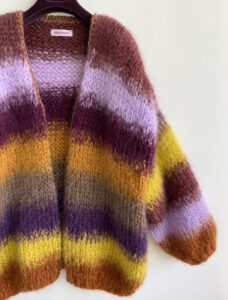 Size and model chunky knitted cardigan tie-dye striped
The size of the oversized striped cardigan falls oversized as medium, size EU 38-40.  The mohair cardigan has volume in the body and in the balloon sleeves. The length of the Bernadette ladies mohair cardigan is approximately 72 centimeters. This cardigan is also beschikbaar in een andere kleurencombinatie met blauw, aubergine, roest en bruin. This mohair cardigan can also be made to measure or in a different color combination. Please inquire about the possibilities!
This hand knitted mohair cardigan with tie-dye stripes is ready for shipping.